What are Live Prices?
The data available to ONE, where it is sourced from and its availability, is described in detail here.
However, as a user of ONE you do not need to be aware of these details or do anything special - except, that is, when dealing with live prices. This is because ONE does not have its own source of live data (the reasons why are explained here) but instead relies upon your financial broker software running on your computer to supply the data.
The important point here is that to receive live prices you must configure ONE to tell it which broker you wish to receive data from (see here). And it should also be noted that if that broker software is only supplying delayed prices (because it is a paper-trading account) then the prices streamed into ONE will also be delayed.
Show me how to Connect to Live Prices...
To switch from back-testing to live prices press the LIVE button on the top right corner of the Trading Date & Time section on the "Home" tab of the ONE Ribbon:

ONE will then attempt to connect to the live data feed...

If ONE is unable to find the live data feed it will report an error: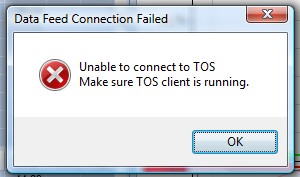 This error message is reporting that it is unable to connect to the thinkorswim software application and advises the user to check that it is running (and the user is logged into it).
Tell me more... When do Live Prices become Intra-Day prices?
One common issue that may arise relates to when historical Intra-Day pricing becomes available after the close of market. The answer to this question is that exchange rules prevent us from re-distributing the data prior to the next trading sessions opening bell.
For example, worse case scenario is that on a Friday you are using ONE with live prices streamed from your thinkorswim trading platform. At the close of market, live prices cease (obviously) but you would like to go back and use historical Intra-Day prices for that same day in order to perform some analysis, create test trades and so on. Unfortunately, this is not possible until Monday morning (or the next trading session if that is an exchange holiday), when the markets re-open. If you attempt to access Intra-Day prices in ONE for Friday, after the close but before market open on Monday, you will receive the following message: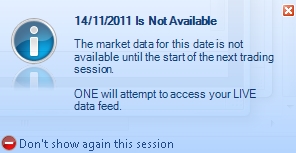 In the meantime however, you will still be able to access Friday's End of Day prices for your analysis because ONE will connect to your broker data feed to provide this.