What is installation?
Before you can use ONE for the first time you need to download it from our website and then install on your computer. Once installed, no further installations are necessary and you should be able to run the software on your computer without any problems.
Please note that the terms of your End User License Agreement (EULA) allows you to install ONE on multiple computers although you are limited to running it on only one machine at a time (see here for more information).
How do I install ONE?
Download the software from the website at www.OptionNetExplorer.com. Click on the download page and login using the credentials emailed to you when you subscribed, then click on the download button. Once the software has been downloaded to your computer start the installation process by running the ONE installer executable and follow the on-screen instructions.
System Requirements:
•Operating system: Windows XP, 2003, Vista or Windows 7
•400 MHz Intel Pentium II processor or faster
•2 GB RAM or more
•50 MB of free hard disk space
•Internet connection
•Screen Resolution of 1280 x 720 or higher
Show me how to install ONE...
Please note that this is an illustrative example only - the screen shots show a specific installation into a Windows Vista operating system while your installation may differ somewhat from this. Any prompts from firewall or anti-virus software, or from your operating system are not shown - it is assumed that ONE is given any relevant permission from such applications.
As a subscriber to ONE you should have had your ONE user name and password emailed to you - these are your credentials that allow you to login to the ONE website and download the ONE software. They also allow you to log into ONE once it is installed on your computer. If you have not received this email then please check your email's Junk or Spam folder (just in case the email has inadvertently been diverted) otherwise please contact ONE support.
Step by Step
1. Firstly, point your web browser to the ONE website at: www.OptionNetExplorer.com and look for the "Download" link on the main menu. Selecting this "Download" link will then send you to a screen where you will be prompted to enter your user name and password and, if successful, you will then enter ONE's download area where you can see, amongst other things, details of system requirements and ONE's terms and conditions.
2. If you believe your computer satisfies the system requirements and that you are happy with the terms and conditions, then you can start the download process by pressing the "Download" button - please note you may have to scroll your screen down to see this button: it will be associated with some information about software versions. If more than one version is available, unless you have been advised to the contrary by the Support Team, select the version that is "STABLE".
Note: stable in this context means that the version of ONE has passed a rigorous testing regime and is available for general use by all of the ONE community. Other versions, such as "BETA" versions, are usually released for limited evaluation - they normally include some new feature which can be tested by an interested party (testers, volunteers or the feature requester if they are so inclined).
3. Once the "Download" button has been pressed, the download process should commence. You may then be prompted as to what you want to do with the file - what you ultimately want to do is to "Run" the file, so if you are given that option then please take it - but you may only be given the option to "Save" the file - in which case choose "Save"...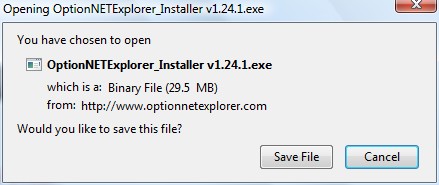 4. Once the file has been downloaded and saved you need to Run it from the location you previously chose to save it to (only required if you selected "Save" in the previous step):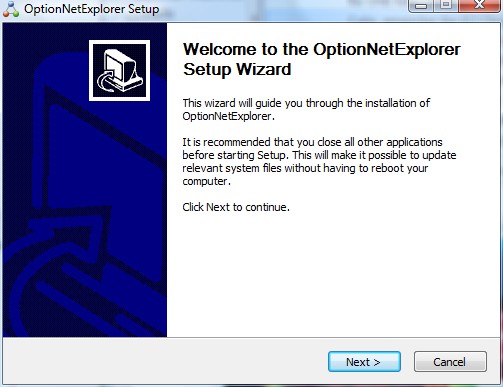 Select the "Next" button and...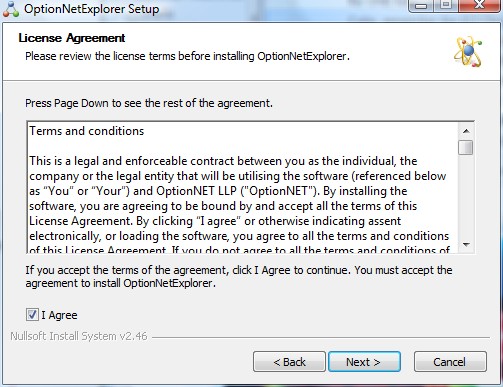 Once you have read and agreed to the End User License Agreement (EULA), ticket the "I Agree" checkbox and select the "Next" button...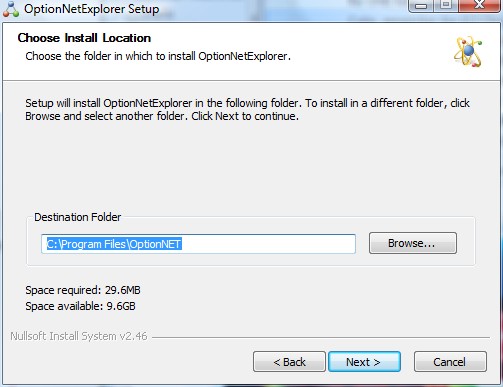 If you are happy with the default installation directory (it is unlikely you will need to use an alternative directory), select "Next"...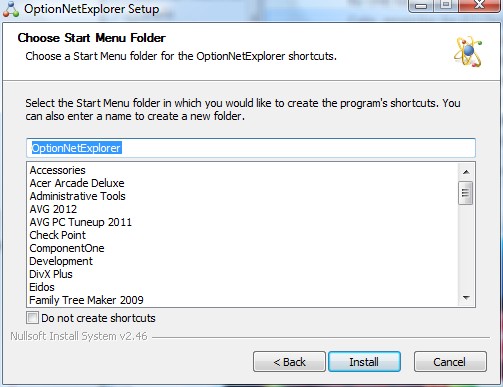 If you are then happy with the Start Menu default folder (again, it is unlikely you will need to use an alternative folder), select "Install"...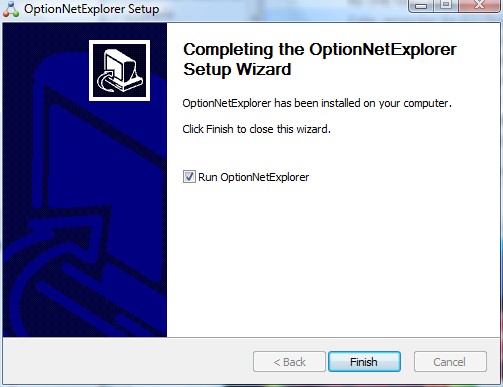 and ONE is now installed on your computer, ready for use. If you accept the default "Run OptionNetExplorer" checkbox value and then click "Finish", ONE will start automatically.
Problems installing ONE?
Please ensure that you give any necessary permissions to your anti-virus or firewall software to allow ONE to run on your computer and to access the internet.
If you experience any problems during the download, please email Support@OptionNetExplorer.com or visit the Support Suite directly via http://support.optionnetexplorer.com and create a support ticket for assistance. See more information about using the Support Suite.