What is Upgrading?
Upgrading is the process by which newer versions of software are installed on a computer, replacing any previous version.
Why Upgrade?
The software is continuously improved and the process of upgrading is the means by which these improvements are made available to you. Please note that you will receive all upgrades free of charge during your subscription period.
How do I Upgrade?
The upgrades are managed automatically and the software will inform you when a new version is available. This will usually occur when you are logging into ONE - a popup window will be displayed asking for your permission to upgrade: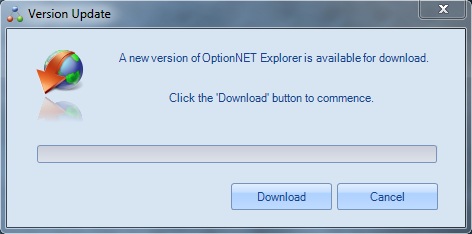 Accept by pressing the "Download" button and the upgrade will be downloaded automatically: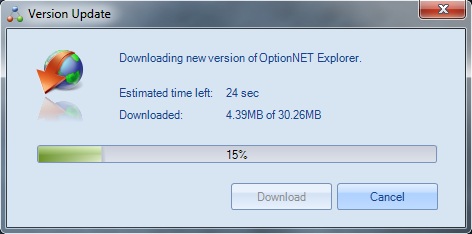 Once the download is complete the installation wizard will run and guide you through the installation process.
Problems Upgrading?
Please ensure that you give any necessary permissions to your anti-virus or firewall software to allow ONE to run on your computer and to access the internet.
If you experience any problems and the automatic upgrade process fails, please follow these steps:
1.Close the ONE software.
2.Reboot your PC.
3.Manually download the installer from the downloads page on the website at www.optionnetexplorer.com. Before you run the installer, please make sure that ONE isn't already running on your PC.
4.Run the installer and follow the instructions.
You do not need to uninstall your current version in order to upgrade.
If you experience any problems during the download, please email Support@OptionNetExplorer.com or visit the Support Suite directly via http://support.optionnetexplorer.com and create a support ticket for assistance. See more information about using the Support Suite.