What does ONE look like?
After logging into ONE you will be presented with the ONE main screen which should look something like the following: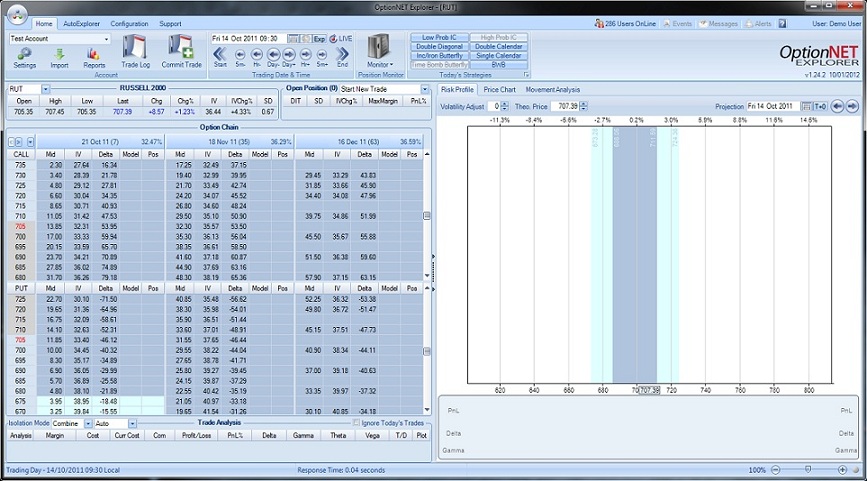 ONE looks complicated, what does this all mean?
At first glance, this screen looks quite daunting because there is a great amount of detail. When faced with complication, usually the best thing to do is to break it down into smaller, more understandable chunks - so this is what we will do: we can thus break the ONE main screen down into seven main distinct areas, each of which is described in detail below. Click on the area in the chart to find out more about that area.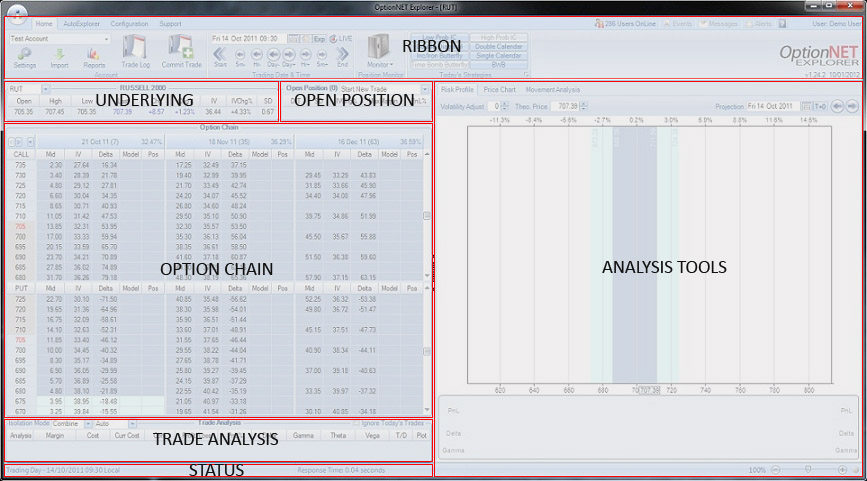 What do ONE's screen areas do?
The areas on the ONE main screen
Screen Area

Description

Ribbon

The main display area for menu options and utilities.

The default menu tab is the "Home" tab - which is of fundamental importance in using ONE to model Trading Positions as it allows the Trading Date & Time selection, upon which all subsequent data is dependant.

Underlying

Allows selection of the underlying vehicle (the tradable commodity on which options are based) and displays underlying data as of the Trading Date & Time (previously selected in the Ribbon area).

Position (also know as: Open Position)

Allow Trade selection and display an analysis of the selected Trading Position.

Option Chain

Displays the option strikes (and their prices, greeks etc) associated with the underlying (previously selected in the Underlying area).

Trade Analysis

Display an analysis of the selected trading position.

Analysis Tools

Various analysis tools used to monitor the trading position.

Status Bar

Displays status information.
Show me Additional Help...
Many of the controls in ONE have built in help that appears when you hover your mouse over the control itself - as shown in the following example for the Expiration Date field on the Trade Analysis screen. Try it for yourself by hovering your mouse over the 'Auto' dropdown control: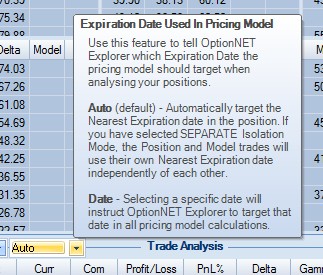 Tell me more about:

Ribbon screen area

Underlying screen area

Open Position screen area

Option Chain screen area

Trade Analysis screen area

Analysis Tools screen area

Status screen area